We are here to help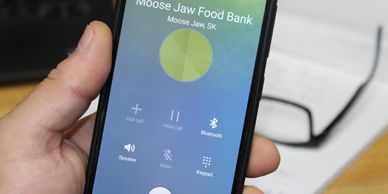 Hampers must be pre-booked for same day pick-up. You can do this by calling us at
306-692-2911
or stopping by the Food Bank between
9am and 12pm Monday, Tuesday, Thursday and Friday
to set up a time between 1:00 and 1:30 to pick up your food hamper.
There are no hamper pick-ups on Wednesdays.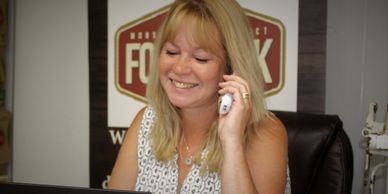 When you call in for your first visit you will be required to provide:
one piece of valid government-issued ID (i.e. a driver's license, photo ID, or a Saskatchewan Health Care card) for each person that lives in your household (including children);
a recent piece of mail that has the date, name, and address of one adult living in the house;
some personal information about monthly income sources and expenses, including rent/mortgage, utilities, vehicle, childcare, and other basic household expenses.
We guarantee that all information collected is kept confidential.
PICK UP
Once you are registered, and a pick up time is assigned to you. you will receive a box containing approximately 7 days worth of food for you and your family. We include perishable and non-perishable food items. The content of the hamper may vary from day-to-day depending on our inventory.
If there is anything in your food hamper that you do not think you will use, please consider leaving it behind for someone else to enjoy.
Hamper pick up is available on
Monday, Tuesday, Thursday and Friday between 12:30pm and 1:30pm.
There are no hamper pick-ups on Wednesdays.
You can access at least 7 Food Hampers per year.
Frequently asked questions
Where are you located?
305 Fairford Street West, Moose Jaw, SK
When can I pick up my Hamper?
12:30-1:30pm, Monday, Tuesday, Thursday, Friday (there are no hamper pick-ups on Wednesday)
Be sure to call in and order your Hamper between 9:00am and 12:00pm the day you plan to come in.
What do I need to bring?
Each time you visit the Food Bank, you will require government-issued identification and a piece of recent mail to confirm your current address. You may also need to provide some information such as your monthly income, employment status, and household expenses so that we can keep your file up-to-date.
Who is eligible for a Hamper?
Anybody who needs a hamper is eligible.
How often can I get a Hamper?
Currently we offer emergency food hampers once every 30 days, up to a maximum of 7 times per year.
What can I expect to get in my Hamper?
We do our very best to provide a variety of healthy and nutritious meal options in each hamper, and at times may be able to accommodate dietary restrictions and preferences on a case-by-case basis. However, the variety and amount of food in each hamper will vary from day-to-day depending upon what we have received as donations. Your Hamper comes with enough food to last your household approximately 7 days.
Can I get my Hamper delivered?
Unfortunately, we cannot deliver food hampers at this time. They must be picked up in person.
How can I carry all this food home?
Our hampers come pre-boxed. If you do not have your own vehicle, you may find that transferring your food hamper into reusable cloth bags, a duffle bag, or a backpack will make it easier to carry your food. Although we encourage the use of reusable bags, we usually have recycled plastic bags or cardboard boxes available for you to pack up your food for more convenient transport.