Icefields Parkway and the Columbia Icefield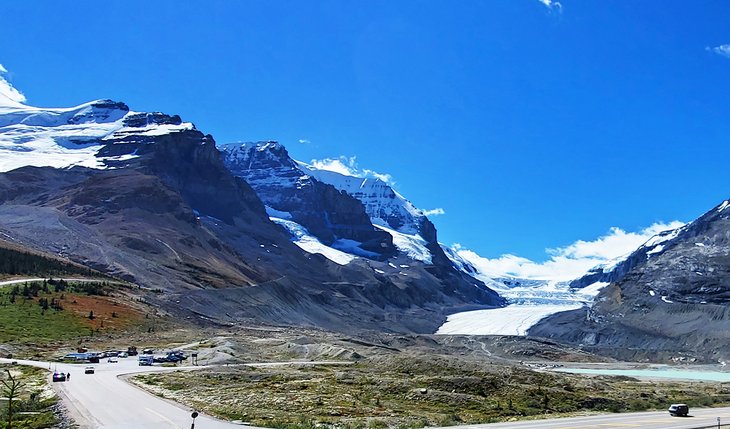 Icefields Parkway and the Columbia Icefield
The Icefields Parkway runs from
Lake Louise
to Jasper
and is one of the most beautiful drives in Canada. This 230-kilometer stretch of highway leads past lakes, mountains, glaciers, and waterfalls, with stopping points for visitors to get out and experience the landscape. Numerous
hiking trails along the way
, most of which are day hikes, lead to scenic lookouts over surrounding glaciers or lakes.
One of the main attractions along the Icefields Parkway is the
Icefields Centre
. This large visitor's center features excellent displays on the Columbia Icefields and looks out over the
Athabasca Glacier
. From the road, it is difficult to comprehend the layout and size of the icefields, but models and photos at the center offer a unique perspective.
Across from the center, it's possible to walk up to the toe of the glacier. Alternatively, tours in specially outfitted buses are available, which drive visitors out onto the glacier. One of the newest attractions is the
Glacier Skywalk
, a huge observation platform standing 280 meters above the valley below, with a glass floor and glass railings. A shuttle service runs from the Icefields Center to the Glacier Skywalk.
You can also do a full-day
Columbia Icefield Tour from Calgary
, which includes the Glacier Skywalk, a trip out onto the glacier in an all-terrain vehicle, and the scenic drive along the Icefields Parkway